Hello!  Happy Tuesday!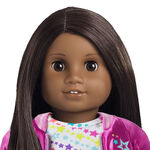 Picture from American Girl Wikia
So last week, you commented names for Truly Me #47.  There were so many good ones!  Now you have to pick your favorite from these five(and comment just one):
Marian
Sierra
Amber
Crystal
Lucy
It was HARD picking out my favorites!  Thanks for commenting so many.  🙂  The deadline is June 21st, 2016.
❤ , IrishAG