Hello readers!  Happy March!
We are doing another Name Game!  This time, we're naming the #17 Just Like You doll.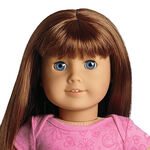 Picture from AG wikia
To play, simply look at the doll above, and comment 1-10 names that you think would suit her.  After the deadline, I'll pick my 5 favorite names from the ones you commented.  The deadline is March 9th, 2017.
Thank you for commenting which doll you'd like to see next in the previous Name Game.  I will use your suggestions in a future Name Game.  🙂
❤ , IrishAG