Hi readers!  Happy belated St. Lucia day!   😀  (It was on December 13th.)
Picture from American Girl Wikia
This holiday is very special in Kirsten's stories.  In Kirsten's Surprise, Kirsten, with the help of her cousins, dresses up as St. Lucia and serves the traditional treats to her family.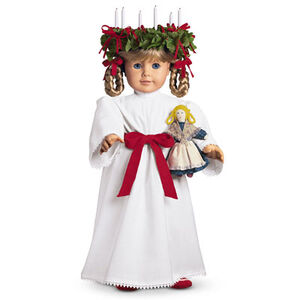 Picture from American Girl Wikia
The gown above is the one AG sold.
Since we don't have Kirsten's St. Lucia gown, I decided to make one!  I used Josefina's blouse from her feast outfit and a red ribbon we had lying around.  For the wreath, I scrounged in the basement and found some faux leaves that twine around each other nicely.  The candle is just from a box.
This is the result!  It's not a perfect match, but it will do.   🙂  A VERY IMPORTANT TIP: If you use real candles for a doll's St. Lucia outfit, do NOT Light the candles!!!!  You could damage your doll.
Do you celebrate St. Lucia day?
❤ , IrishAG